Lock & Hardware products for
ship- & yachtbuilding
mass transportation industry
repower industry
industrial application
Since
1872
. Out of tradition towards the customer the products and services are manufactured and grafted quality grade
Made in Germany
.
SCHWEPPER products and services comprise:
Locks and hardware for furniture / doors / interior systems from a comprehensive catalogue standard
Locks and hardware for special applications
Locks and hardware on customer specification
Lock and hardware prototype building
Support from the initial phase of projects
Production capacities for other companies
In order to successfully accompany the progress of modern competition on eye level, evolving is the corporate constant. Lived traditional values is hereby no contradiction.
The objective of establishing
SCHWEPPER
as Your strategic partner – is our vocation.
Products and Services

All products are being designed for the use in the maritime environment. Material, sturdiness, corrosion, fire protection, etc. - the Schwepper standard catalogue offers solutions for every conceivable challenge in application. The standard catalogue comprises 16 groups - each group per application.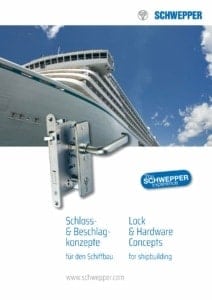 Should a product solution not be sufficient to meet the demand - our in house R & D customizes alle products to the individual demand - or designs from the scratch product platforms according to specification.
The catalogue is available as PDF file for download
All products digital in the Product Store

Schwepper enjoys world wide reputation. As manufacturer and partner for yacht owners as well as yacht builders, architects and consultants, our main objective is to supply the product quality, the yacht industry demands.
The understanding for individual needs combined with the aspiration for total customer satisfaction is truly reflected in Schwepper´s product policy. Our choice of fine and durable finishes is a compliment to any yacht as well as to her owner. The realization of highly demanding technical challenges out of the innovative yacht building and the resulting unique product platforms guarantee solutions out of one hand.
Either interior or exterior hardware – functionality and the superior nature to withstand rough conditions at sea on small or big yachts is a challenge that has been successfully mastered by our products since generations - with the respective high value demand of yacht building.
The yacht catalogue as PDF for download.
All products digital in the Product Store
Systeme 9401Z with hardware 9401B for driver stand cabin ICE3 High Speed Train
---
Examples of realized hightech reference projects:
ICE2
ICE3
Velaro
Rhealys
ScotRail
Morgate
Metro Berlin
Our strengths:
Quality
Reliability
Customer specific products
Feasibility studies in regards to design and functionality of locks and hardware systems
After sales service
R & D with modern production facilities
Lock systems for mass transportation systems or special doors:
The special demand on locking systems in high technology or special application areas is a key account in our business structure. The level of precision and the respective project management is being specified by the desired individual application of the customer.
Our Know How and our engineering are the guaranteeing factor that through quality a higher value is being added to the customized product. This being confirmed through the references from the mass transportation industry:
One of the numerous strengths of the company is the ability, which has been proven for decades, to individually adapt standard products to customer needs or to create products according to customer specifications. This is implemented by our R & D department and is also certified according to DIN EN ISO.

We use the latest IT tools for support and a strong team to solve all tasks and challenges. In addition, we have a wide-ranging, powerful network of suppliers in the areas of prototype construction, 3D printing, etc.
Do you have a special requirement for ​​locks and fittings that standard products cannot cover? First, check out our
Product Store
to see if you can find a product that meets your needs. Then send us an inquiry with your customization requests.
If you should not find what you are looking for in the product store, send us a functional description with meaningful dimensions for a quick initial evaluation to
info@schwepper.com
Middle East
Iran (Railway Industry)
Exclusive Commercial Representative for the Iranian Railway Industry
Unit 18, No. 2 Proshat Street Motahari Ave. 1567717744 Teheran
Phone: +82122961300 Mobile: +9891 2712 6241
United Arab Emirates
Vacant - send Your application
Africa
South Africa
Vacant - send your application.
Asia
Taiwan
Exclusive Country Distributor
3Fl., No.6 Wu Quan 8TH Road Wugu Shian 248 Taipei
Phone: +886 222 98 00 30 Fax: +886 222 98 00 31
Vietnam
Commercial Representative
Hata Bldg., 103 Pham Viet Chanh (Floor 5) Ward 19, Binh Thanh District, HCM City
Phone: +84 83517 8423 Fax: +84 83517 8427
Singapore
Exclusive Country Distributor
200 Jalan Sultan #03-03 199018 Singapore
Phone: +65 646 466 12 Fax: +65 646 466 13
Malaysia
Exclusive Country Distributor
200 Jalan Sultan #03-03 199018 Singapore
Phone: +65 646 466 12 Fax: +65 646 466 13
Japan
Vacant - send Your application
Pacific Region
Australia
Exclusive Country Distributor
8 Monterey Road Dandenong Vic Aus-3175
Phone: +61 392 12 20 00 Fax: +61 392 12 20 02
New Zealand
Vertretung
16 Accent Drive East Tamaki Greenmounti Auckland
Phone: +64 92 74 20 40 Fax: +64 92 74 20 41
North/South America
USA
Exclusive Country Distributor
P.O.Box 566 USA-32721-0566 DeLand Florida
Phone: +1 386 943 88 57 Fax: +1 386 943 88 10
Canada
Distributor
6515 Vanden Abeele St-Laurent QC H4S 1S1 Canada
Phone: +1 514 339 9660 Fax: +1 514 339 5592